Created on Monday, 25 February 2013 12:48 Written by Groupies: Fred, Tony, Dave, DJ, Ken and Phil
Don and Mo have been on a fourth day journey that many of us would be unwilling to take. God had a special calling for both of them when in 1976 he gave Jerry & Anne Tisi (Denbow), and Don & Mo the idea to start a Catholic Family Camp. Who in their right mind with no money and just a wing and a prayer would ever start out on such an ambitious project? Phil remembers thinking at the time "this is a great idea but these fellows must be smoking something that I don't know about." Thinking from a worldly view about life rather than a Christ centered view; I had forgotten that "nothing is impossible with God for those who put their trust in him."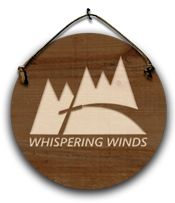 If you have ever met or talked with Don or Mo, and many of you have; somewhere in a conversation with one of them you would have heard: "I don't know where the next payment for the camp is going to come from," or "the coming dinner dance attendance is not very good"; and then heard Don say "I am going to contact the Carmelites and have them pray."
Later you would find out that the Lord had provided the answer through some generous donations to the camp and the dinner dance was a great success!
In remembering the disastrous Cedar fire of 2003 and the great devastation it did to the Camp; we witnessed that Don and Mo did not lose their trust in the Lord. Often in our group sharing's, Don would share that when he was in doubt he would rely on scripture to remember that he had to trust in the Lord. Proverbs 3, vs. 5-6: "Trust in the Lord with all your heart, on your own intelligence rely not; In all your ways be mindful of him, and he will make straight your paths." The fire that looked like a total disaster turned out to be a blessing in disguise. New leaders stepped forth, new commitments, new facilities, and an increase in camp attendance, along with new family ties and renewals of faith.
Surely following this call from God has had to present financial and family challenges to Don and Mo. In all the encounters with them over the years we have never experienced an attitude of regret for beginning and faithfully continuing on this journey. In fact, what we continue to see is the willingness to step out further and accept new responsibilities.
Has this walk been easy, perfect and one of complete success? Don and Mo would attest to doubts and fears and failures all along the journey but it seems to us that they have captured the essence of what Mother Teresa of Calcutta said: "God does not call us to be successful but to be faithful". Surely their walk with Christ has been one of faith, hope and trust.
As many of you know, Don is retiring from Whispering Wind's and will be honored at the dinner dance on March the 9th. This is truly an honor to both Don and Mo and a visual demonstration of what a "Closer Walk With Christ" can be.
The authors of this article (Fred, Tony, Dave, DJ, Ken and Phil) are Don's Cursillo groupies.